Commonwealth Conversations with BK Fulton
Commonwealth Conversations with BK Fulton
Wednesday, January 10, 2024 (8:30 AM - 10:30 AM) (EST)
Description
Commonwealth Conversations is a 5-part Chamber speaker series that will be held every other month. Colonial Williamsburg Foundation is the Series Sponsor, and the President of Colonial Williamsburg Foundation, Cliff Fleet, will lead in-depth discussions with trailblazers and thought leaders of our time.
Sponsorship and Series Tickets (Individual & Tables of 8) now available!
September 6th at 8:30 AM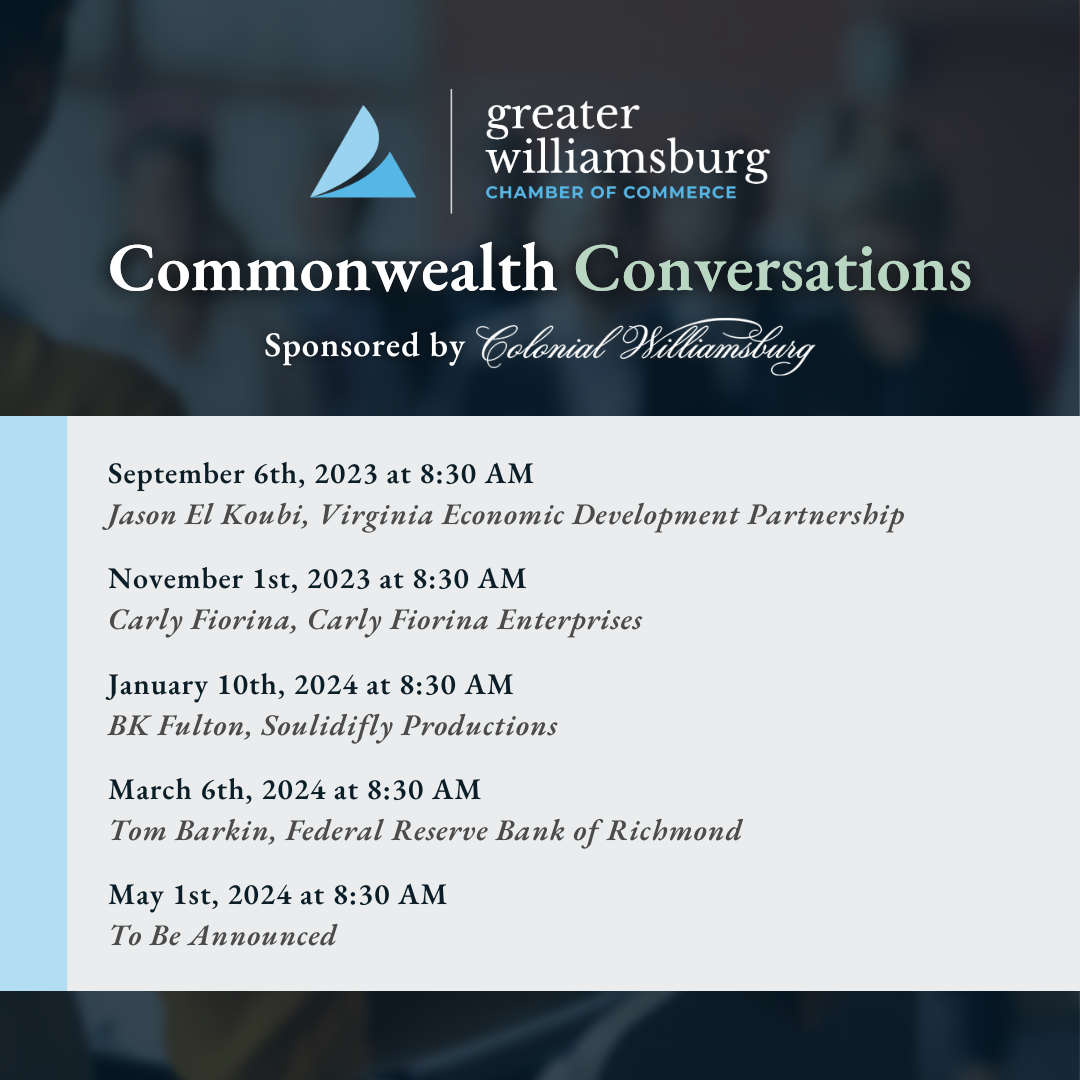 Jason El Koubi, Virginia Economic Development Partnership
November 1st at 8:30 AM
Carly Fiorina, Carly Fiorina Enterprises
January 10th at 8:30 AM
BK Fulton, Soulidifly Productions
March 6th at 8:30 AM
Tom Barkin, Federal Reserve Bank of Richmond
May 1st at 8:30 AM
To Be Announced
Enjoy breakfast and insightful conversation in the 3rd of this 5 part Chamber Speaker Series featuring in-depth talks with trailblazers and thought leaders interviewed by President Cliff Fleet. Our 3rd guest speaker is BK Fulton.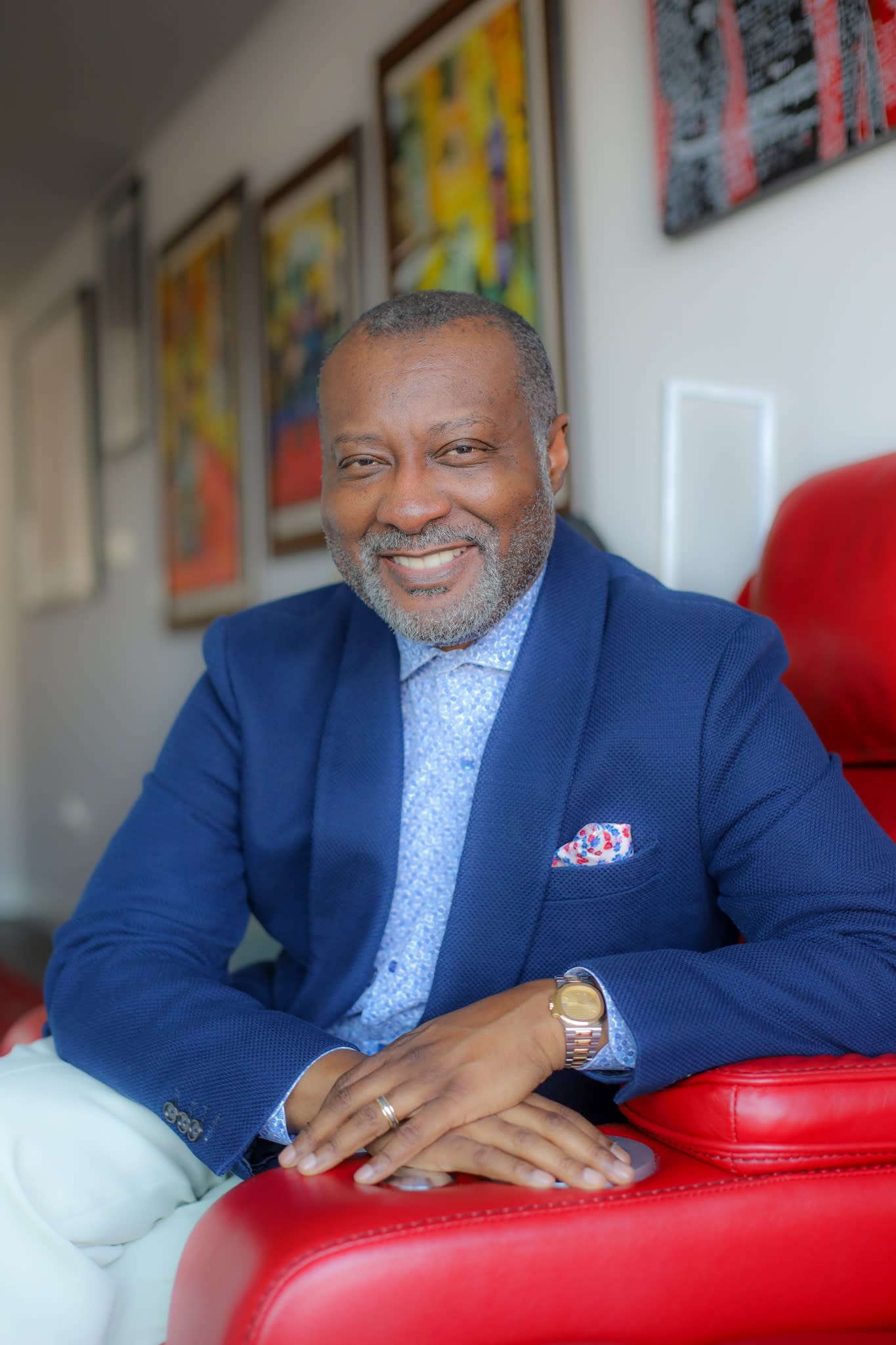 Mr. BK Fulton, p.g.a. – Chairman and CEO
BK is the chairman of 7 companies and an award-winning filmmaker, media investor and author. In 2017 BK founded Soulidifly Productions - a film, stage and TV investment company designed to promote a more inclusive narrative in media. The company has produced 18 feature films, 16 books and two #1 shows on Broadway since its inception including the highest grossing August Wilson show and revival of all time. The Piano Lesson was nominated for two Tony Awards. Soulidifly's next production will be a revival of The Wiz starting this September (2023) and ending with a 20 week run on Broadway (2024). The company retains ownership interests in MoviePass 2.0 (films, gaming, and B2B), Iconic Events Releasing (over 8,000 screens), and MediaU.com (the first online film school with university transcripts and credits). BK is also a principal with Ralph Sampson in Winner's Circle Ventures – a $100 million dollar strategic investment company targeting all entrepreneurs, especially women and minorities.
Prior to becoming a full-time author and entrepreneur, BK was Vice President of the MidAtlantic Region for Verizon Communications, Inc. and President of Verizon Virginia and West Virginia. He has held senior leadership, media, technology, and policy development posts with the U.S. Department of Commerce, AOL, Time Warner, Verizon, and the National Urban League. BK is considered one of the most influential African Americans in technology. He is a Computerworld-Smithsonian Laureate (2000) and his influential writings on technology and the underserved are permanently archived at the Smithsonian Institution. His board service includes: Norfolk State University, TowneBank, the Library of Virginia Foundation, Media Mentors, The Jamestown-Yorktown Foundation, The National Center of Women's Innovations and MediaU.com. He was most recently inducted into the JA Business Leaders Hall of Fame (2022).
BK holds a Bachelor's degree from Virginia Tech, a Master of Science degree and Sloan Fellowship from Harvard and the New School, and a Juris Doctorate from New York Law School. He is married to Mrs. Jacquleyn E. Stone, a Harvard Law graduate and prominent Richmond attorney at the McGuireWoods Law firm. Jackie and BK are co-parents to three young men – Joshua, Terrell, and Sam.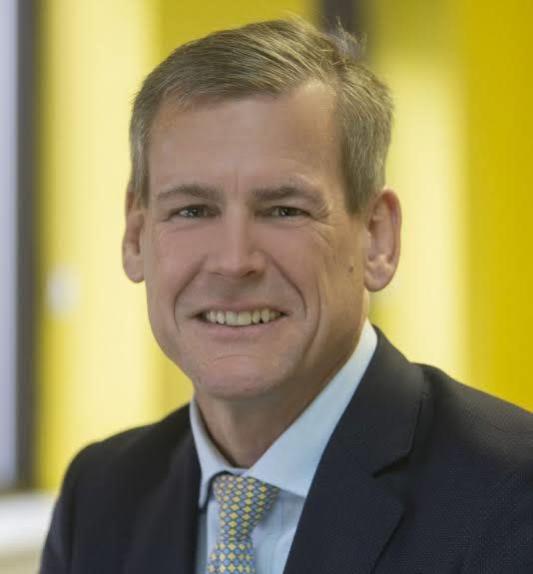 Mr. Cliff Fleet, President and CEO
The Colonial Williamsburg Foundation
Named The Colin G. and Nancy N. Campbell Distinguished Presidential Chair in January 2020, Mr. Fleet is a corporate executive, teacher, community volunteer, board member and consultant.
Previously, Mr. Fleet was the president and CEO of the biotechnology firm, 22nd Century Group (where he remains on the Board). He continues to serve as an adjunct business professor at the College of William & Mary.
Mr. Fleet retired as the president and CEO of Philip Morris USA in 2017, after 21 years at Altria Group, where he held senior leadership roles in marketing, business development, strategy, operations, investor relations and sales. After leaving PM USA, he advised numerous businesses and nonprofits as a managing partner at SIR, a strategic management consultancy based in Richmond, Virginia.
Mr. Fleet currently serves as a board member for the Growth4VA (former Vice Chair), founded by the Virginia Business Higher Education Council, Chair of the William and Mary Foundation, and a board member for The Omohundro Institute. He also is a member of the Virginia 250 Commission.
Previously, he served on the board for the Jamestown-Yorktown Foundation (Chair, 2014-2019), the Virginia Repertory Theatre, and the Virginia Business Higher Education Council.
---
---
Enhanced Continental Breakfast Buffet:
Seasonal Sliced Fruits, Assorted Cereals
Breakfast Pastries, Muffins, Sweet Butter and Jams
Scrambled Eggs, Virginia Bacon
Country-Fried Potatoes
---
---
Single Ticket: Open Seating
Members: $55
Prospective Members: $80
Tables of 8: Reservation: Eight Reserved Seats with Company Logo
Members: $500
Prospective Members: $700
TICKETS FOR THE ENTIRE SERIES ARE AVAILABLE
Series Tickets:
Open Seating for each of the breakfasts
Members: $250
Prospective Members: $350
Series Tables:
Eight Reserved Seats with Company Logo on the Table at each of the breakfasts
Members: $2300
Prospective Members: $3400
Become a sponsor of Commonwealth Conversations: View available sponsorships here, and register online to secure your investment today!
Gold Sponsors

Disclaimer: At this event, photos and videos may be recorded. By attending this event you may be included in these photos and videos. Your attendance at this event grants your permission to be in these photos or videos, which may be used for marketing and promotional purposes.
Tickets are non-refundable.
Images
Williamsburg Lodge
310 S England St



Williamsburg

,

VA

23185

United States



Wednesday, January 10, 2024 (8:30 AM - 10:30 AM) (EST)
Categories
Business Networking
Educational